Are you having an automation or packaging related challenge?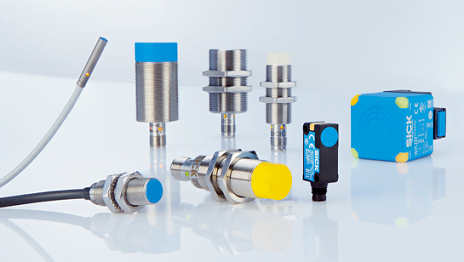 Inductive proximity sensors:
Product description:
– Cylindrical, sleeve & rectangular design in different sizes.
– From 3 to 34 mm.
– Switching distances up to 60 mm.
– AC/DC & Namur.
– Metallic & plastic housing.
– Current or Voltage analogue output available.
Area of use:
– Automotive industry.
– Electronic industry.
– Metal & Steel processing.
– Mechanical engineering in general.
Capacitive proximity sensors:
Product description:
– Sensors for monitoring filling levels of closed containers, checking
presence & checking levels of bulk materials, final inspection of packaging
processes.
– Rectangular & Cylindrical housing with thread sizes 12,18 and
30mm,Switching distances from 8 to 25 mm.
At a glance
– Cylindrical housing/Rectangular housing
– Detects powders, granulates, liquids and solids
– Extremely high electromagnetic compatibility
– Electric version: DC 2 and 4-wire
– Supply voltage: 10 V … 36 V DC
– Enclosure rating: IP 65, IP 68, IP 69K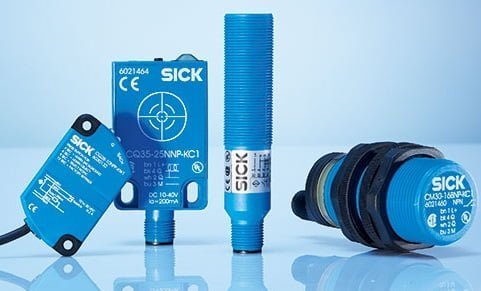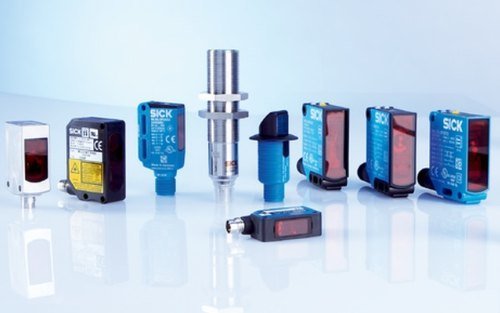 Photoelectric sensors:
Product description:
 – Miniature, small & compact photoelectric switches.
– Rectangular & cylindrical shapes.
– Complete family of sensors consists of proximity, through-beam and reflex
– Photoelectric switches used in aggressive environmental conditions.
– Laser variants also available.
– Photoelectric switches for glass detection.
– Highly immune to dazzling, reflective and glossy surfaces.
– Detection of the smallest objects by fiber-optic cables.
– Available in explosive areas.
Contrast sensors:
Product description:
– White LED or RGB LED
– Small housing allows installation even where space is limited
– High gray line resolution
– 10 – 50 kHz switching frequency
– Display for easy sensor adjustment
– IO-Link and automation functions
– 2-points and dynamic teach-in
– Manual switching threshold adjustment
– Large dynamic range means reliable detection of contrasts on glossy materials
– Light/dark switching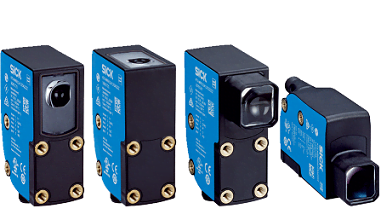 Fork sensors:
Product description:
– Transmitter and receiver in fork housing.
– Wide variety of fork widths and depths.
– Precisely adjustable on object.
– Detection of the smallest of light attenuation differences.
– Teach-in function at the press of a button.
Area of use:
– Label detection.
– Double-sheet detection.
– Mark detection on transparent foil.
– Detection of holes and edges.
Magnetic cylinder sensors:
Product description:
Sensors for C or T-slot cylinders:
– Sensor variants with measuring ranges of 25 mm to 256 mm
– Analog outputs (for current or voltage), switching output, and IO-Link
– Mounting on other cylinder types " round body cylinders" is possible with
adapters
– Can be used in all standard cylinders, linear slides, and grippers using the
C/T-slot and – with the help of adapters – in round rod, tie-rod, and profile cylinders,
and cylinders with a dovetail groove
– Combined fixing screw (hexagon socket screw and slotted screw)
– LED for indicating the output state (depending on the type)
Area of use:
– Packaging machines.
– Handling and assembly technology
– Woodworking machines
– Electronics production
– Textile machinery
– Special machine construction
Encoders and inclination sensors:
With customer-oriented products, SICK-STEGMANN has been an indispensable partner in the industry for over five decades. Complex, high-tech Encoders, and Motor Feedback Systems meet customer requirements in the best ways possible.
Benefit from our extensive know-how in many different applications: for speed and position measurement
in electric drive technology, with maximum precision.
Programmable Encoder:
High-resolution, programmable encoder for sophisticated applications
– Compact installation depth
– High resolution up to 16 bits
– Optionally programmable: Output voltage, zero pulse position, zero pulse width, and number of pulses
– Electrical interfaces: 5V & 24V TTL/RS-422, 24 V HTL/push pull
– Mechanical interfaces: face mount or servo flange, blind or through hollow shaft
Fields of applications
– Applications with high resistance requirements against aggressive substances such as cleaning agents
or salt
– Particularly suitable for use in the food and drink industry, for packaging machines, in medical technology,
and in outdoor applications in ports or offshore plants
– Applications in factory and logistics automation for measuring of position, speed and distance: e.g. in
printing machines, textile machines, wood processing, packaging machinery
– Precise speed measurement on conveyor belts
– Monitoring conveyor belt operation during material handling.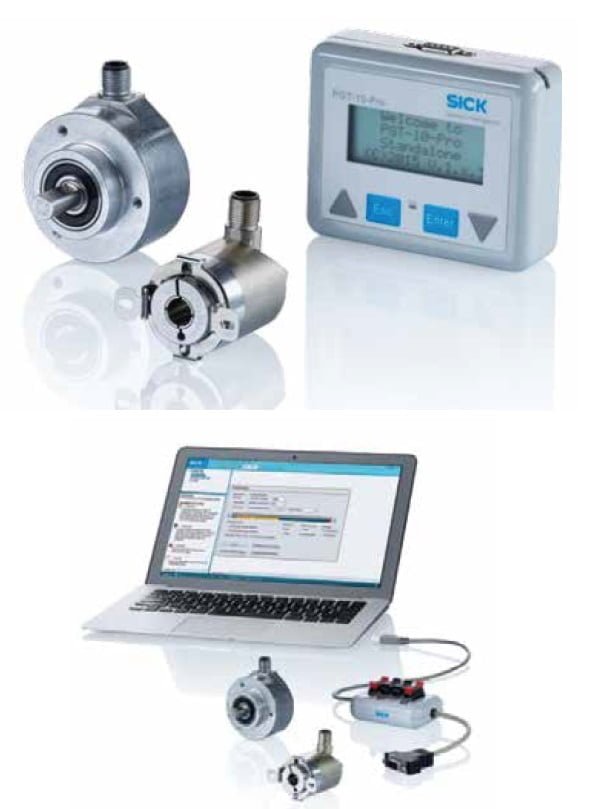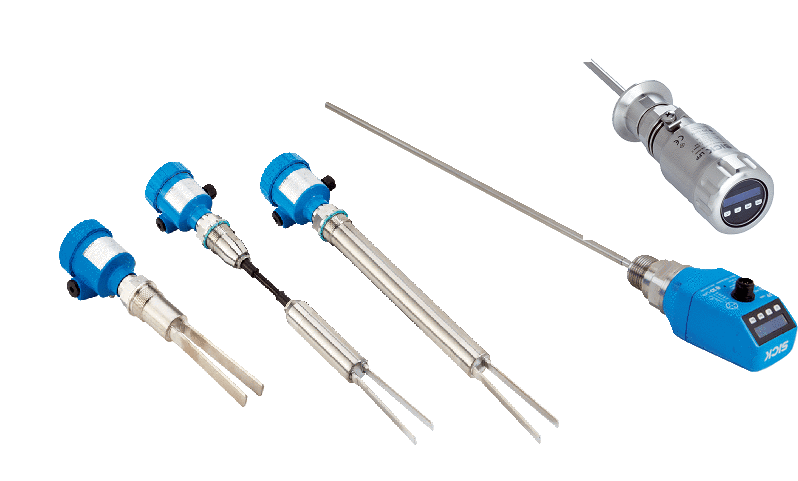 Level sensors:
Intelligent solutions for level and point level measurement
Whether for continuous level measurement, point level measurement or both – SICK offers a wide range of solutions for process engineering, storage, and protection. Based on the installation situation, medium properties, and ambient conditions, SICK provides sensors that ensure efficient processes. As the provider of one of the broadest technology portfolios, SICK brings its knowledge to the forefront.
Pressure sensors:
Universal pressure measurement for liquids and gases
SICK offers a portfolio of electronic pressure measurement transmitters and switches that can be adapted to individual customer requirements because of intelligent and varied configuration options.
Typically, all SICK devices feature the use of high-quality materials, rugged properties, and precise measurement technology, in addition to being easy to operate and install.
Flow sensors:
Rugged and precise – flow measurement technology from SICK
SICK provides innovative sensor solutions for flow measurement technology which combine flexible measuring methods and rugged equipment design with cost-efficient connection concepts to integrate higher-level systems. Whether you need to detect the current flow rate value using analog values or find the quantity using pulse detection – SICKs flow sensors are always reliable and safe and can work with a wide range of media under difficult processes and ambient conditions.
Machine Vision:
SICK supports you to realize your vision. Our broad 2D and pioneering 3D vision
portfolio based on decades of innovation leadership helps customers worldwide.
Positioning, inspection, measuring and reading – all at the same time, if needed.
– They measure, localize, inspect, identify for greater productivity, improved quality.
Fewer manual inspections.
– These cameras can replace a whole range of individual sensors.
Area of use:
– Food and semi-luxuries industry.
– Automotive industry.
– Electronic industry.
– Pharmaceutical industry.
– Packaging industry.
– Wood processing.
Opto-electronic protective devices:
Opto-electronic protective devices are the first choice in order to implement maximum productivity for machines and plants.
Unlike fences and doors, they do not limit during handling or material transport and provide a better view in the machine room.
The broad portfolio comprehensively meets the requirements of hazardous point protection, access protection, and hazardous area protection. Coordinated complete systems can be built using a SICK-specific interface.